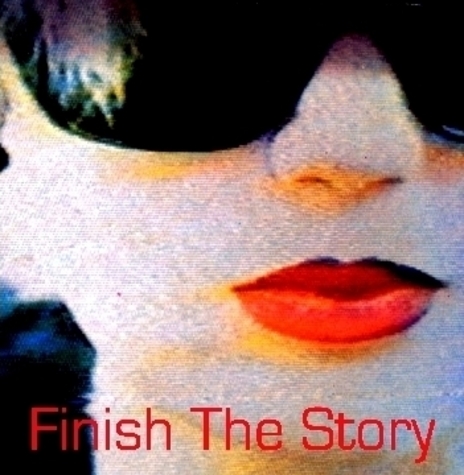 Live Bootleg
(CD)
Disc: £4.00
This disc is a record of the live gigs that Finish The Story did between 1981 and 1983. These tracks are the only known live recordings ever made (as far as we know). The quality is not brilliant but the performances are. The first two tracks have only recently been discovered - does anybody know where the recording originates from? The Exeter gig is the audio from a VHS video of the gig.
This is worth getting as it is a rare glimpse into the mythology that was the early Finish The Story.
1. Alone With A Picture In A Matchstick Frame
2. Chant Of The Boxed In Society
3. Dressed Up In White
4. Every Angry Word
5. The Righteous Talk Of Remembers
6. Empty Vessels (Make Most Sound) 7.
The Angel Who Pawned Her Harp
8. Me Accusing Me
9. Contenders To Play
10. Playing At Life

Nicola Mumford: Vocals
Garry Smout: Keyboards
Peter Bright: Guitar and Bass
Tracks 1 and 2 recorded live 1981 (unknown venue)
Tracks 3 -10 recorded live 21.02.1983 (Exeter College Of Art) Finish The Story
---
A chance to get four later Finish The Story tracks
Trapped In The Hometown released on 'En Face' 1990
Solace released on 'En Face' 1990 (mp3 version on download page)
Ripples In The Water unreleased recorded 1985
Playing At Life unreleased recorded 1985/86 (version sadly without Garry playing keyboards, different to the track on 'Making Noises At Table Mountain')
This is a ten track CD.
---
'Like A Sickle Runs through Corn' released by ZigZag/Situation Two, a various artists album on cassette and vinyl called 'Gunfire & Pianos' Released March 1986. Artists include All About Eve, Jazz Butcher, Psychic TV.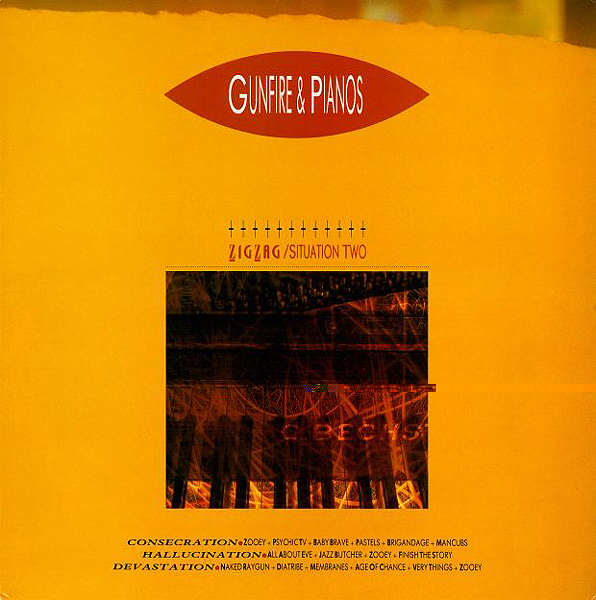 Notes : This was a co-release from Zig Zag magazine and Situation Two. This album was compiled by Mick Mercer who also did the sleeve notes. The Finish The Story Track was recorded in 1985 in Bromsgrove, Worcestershire (UK) on a Tascam 144 portastudio, a cassette based 4 track recorder and mixed down on a Revox PR99 mastering ¼" machine. The reverb was created by looping a Phillips ¼" machine (making an effect a bit like a Wem copycat). This track was originally remixed at Lanes End Studio in Shropshire but this version was rejected for the DIY version.
---
'Trapped in the Hometown' & 'Solace' These two tracks were released in France by Tears (Paris) on an album called 'En Face' (1990) which also featured 'This Window' (Peter's solo project).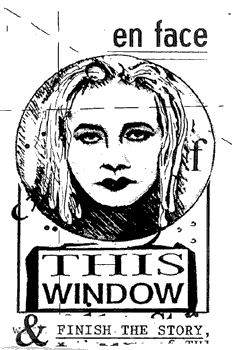 ---
'Trapped in the Hometown' was released on 'Sad Poppy Songs' by Underground Productions from France (Catalog#: UP 7) in 1990 on a casstte compilation album.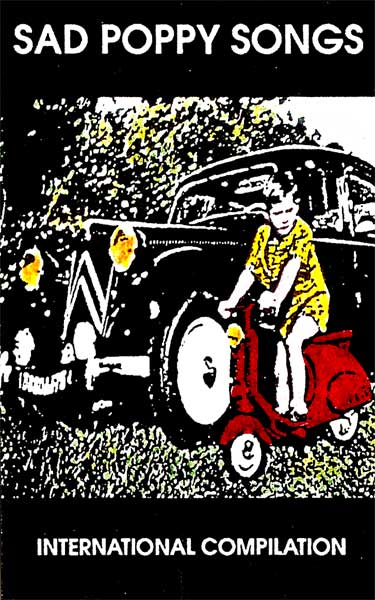 ---
'Making Noises At Table Mountain' this is an internal release, containing the complete set of 1983. Recorded in different locations comprising of rehearsal tapes and demos. Sleeve notes and cover by Garry. Small edition CD.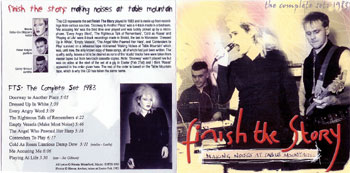 This CD represents the set Finish The Story played in 1983 and is made up of recordings from various sources, 'Doorway to Another Place' was a 4-track made in a bedroom, 'Me accusing Me' was the third time ever played and was luckily picked up by a microphone. 'Every Angry Word', 'The Righteous Talk of Remembers', 'Cold as Roses' and 'Playing at Life' were 8-track recordings made in Bristol, the last in Worcester. 'Dressed Up in White', 'Empty Vessels', 'The Angel Who Pawned Her Harp', and 'Contenders to Play' survived on a rehearsal tape nicknamed 'Making Noises at Table Mountain' which was, until now, the only known copy of these songs, all of which had just been written. The quality, sadly, leaves a lot to be desired as none of the 'studio' tracks here were taken from master tapes but from two-track cassette copies. Note: 'Doorways' wasn't played live but was on video at the start of the set at a gig in Exeter (Feb 21st) and I think 'Roses' appeared in the order given here. The rest of the order is based on the Table Mountain tape, which is why this CD has taken the same name. (notes by Garry Smout)


If you want to see if these are available email